The SWOOP Scoop – September 2016
Moving Forward Together
Brothers of the Blom did it again with their 3rd All Class Picnic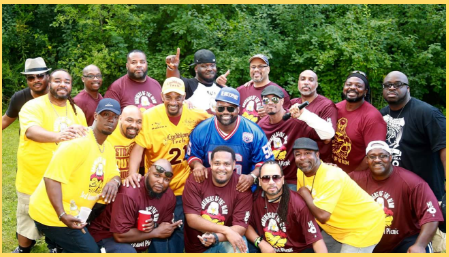 from the Executive Board
The summer of 2016 ended with the Brothers of the Blom (BTOB)  hosting their 3rd Annual Picnic. It was a great way for alumni to kick-off the 2016-2017 Lindblom school year! BOTB inspire collaboration, commitment and communication among alumni and that's the momentum we need to ensure LAA's success this year.
As we wrap up the first month of school, let's all make it a goal to pitch in and make Lindblom greater by providing outstanding alumni support, while LAA continues to work to better serve you. As always, please send ideas and suggestions for the newsletter to info@lindblomalumni.org with the subject NEWSLETTER.   
THIS MONTH'S
TOP STORIES
Homecoming is Saturday, October 8, 2016
from the Membership Committee
It's that time of year again when we all come together to (one time) SWOOP, (two times) SWOOP SWOOP, (three times) SWOOP SWOOP SWOOP…heyyyyy….with a few BOOM BOOM's thrown in there!
Varsity Boys' Football vs. Marshall at 3:45pm – 6:00pm. Gates will open for tailgating and setup at 7:00AM. The location is Stagg Stadium 1035 W 74th Street. All alumni will be headed to Geno's Place afterwards at 12401 S Ashland Ave, Calumet Park, IL.
Serving the Students
This year LAA will be providing food for the football team at homecoming. Volunteers are needed to assist with cooking and cleanup. If interested please email mentorship@lindblomalumni.org or contact one of the Executive Committee members.  
Party Time
William Bolton, Class of '81, will be providing music for the crowd!
Membership Fees only $20
Membership fees paid at homecoming will be $20 to renew or join the Alumni Association. Your payment covers you through December 2017. Please join or renew your membership so that we can continue supporting the school and student body. For membership payment questions or issues (past or present), please email membership@lindblomalumni.org.
Golf Outing
Meet up for a day of golf with other alumni on Friday, October 7, at Fountain Hill in Blue Island. For more information contact Andre Kellum, Class of '88, at 773-443-1496.
Official Election Notice
from the Executive Committee
Election of Officers and Board Members
In accordance with the by-laws adopted the Lindblom Alumni Association Board of Directors, the Lindblom Alumni Association, a 501c3 not for profit organization, announces the official opening of nominations for the offices of President, Vice President, Secretary, Treasurer and all Board of Director positions.

According to official by-laws, Article IV section 3 The Board of Directors shall consist of no less than five members. Such persons shall be elected. The term of each Director shall be a three- year staggered term. The original Board of Directors would serve one, two, and three year terms.

The following Director positions will become open for nomination:
Director, Lovetta Houston '83
Director, Andre Kellum '88
Director, Willie Denton '71
Director, Chanda Dunmars '87
Director, Julie Simms Holder '88

Article V section 2, Officers of the ASSOCIATION shall be elected for two-year terms beginning with the first even-numbered year following the inception of the ASSOCIATION. Election of officers shall be held annually at the first meeting of the year. Officer vacancies may be filled at any meeting of the Board of Directors.

Furthermore, Article V Section 1 describes the position of offices as such; The officers of the ASSOCIATION shall consist of the following, to wit: President, Vice President , Secretary and Treasurer. The Secretary or Treasurer do not have to be Directors. The Board of Directors may elect other officers as it shall deem desirable. In that event, two or more offices may be held by the same person with exception of the offices of President and Secretary.

The following offices will be open for election:
President, Chanda Dunmars '87
Vice President, Julie Simms Holder '88
Secretary, Roderick Cox '81
Treasurer, Roderick Cox '81

Nominations for the offices of President, Vice President, Secretary and Treasurer as well as the 6 Director positions will have an open 30 day period for any member in good and regular standing to nominate qualified candidates to run for these offices. Nominees must be active alumni of Lindblom High School aka (Lindblom, Lindblom Technical, Lindblom College Preparatory or Lindblom Math and Science Academy). Additionally all officers and board members must reside in the home state of Illinois in governance with Federal and State regulations as well as adopted by-laws Article IV, Section 4.

Nominations for each position can be mailed or delivered to the Lindblom Alumni Association mailbox located at 6130 S. Wolcott Ave., Chicago, IL 60636. Each mailed nomination should be clearly labeled for the appropriate position. All candidates will be formally posted via all media forums including direct mail, email, LAA website, and all other social sponsored media including LAA website, Twitter, Facebook and Yahoo Groups. Formal elections will be conducted on the 31st day after this formal announcement. Alumni can activate membership for $20 annually by completing an application via mail, contacting any LAA Officer or Director, or via web at www.lindblomalumni.org. Inactive members can renew their membership via similar options noted above. Membership cannot be transferred or assigned to other alumni.
Election Dates and Requirements
from the Executive Committee
If you are interested in becoming an officer or joining the board of Directors, please join us Wednesday, October 5, 2016 at 7:00PM CST, at Olive Harvey College in the cafeteria. This meeting is mandatory for anyone interested in running. The election will be held Saturday, November 5, 2016 at 11:00AM at Lindblom. Your dues for 2017 must be paid before you can nominate, run for office or vote.
General Meetings and Other Important Dates
from the LAA Calendar
Wednesday, October 5, 2016 – Olive Harvey

(Mandatory for anyone running for office.)
General Meeting and Election: Saturday, November 5, 2016, 11:00AM at Lindblom

Alumni Holiday Celebration: Saturday, December 10, 2016 (Details forthcoming)

Career Day: Friday, December 23, 2016 at Lindblom

General Meeting: Saturday, March 4, 2017, 11:00AM at Lindblom

Senior Shadow Week: June 1 through June 5, 2017

Class Sing: Wednesday, June 7, 2017 at Lindblom

General Meeting: Saturday, June 24, 2017, 11:00AM at Lindblom
LAA focuses on supporting Linblom's curriculum and extra-curricular activities by concentrating on four key areas: mentoring, scholarships, growing our organizational membership and promoting awareness. LAA members are involved and invested in the success of Lindblom students and alumni. We share a sense of pride knowing we play an active role in many of the school's accomplishments. If you're not already a member, please show your continued support by joining today on the Lindblom Alumni Association website.
Eagles helping eagles soar higher.
Lindblom Alumni Association
Chicago, Illinois